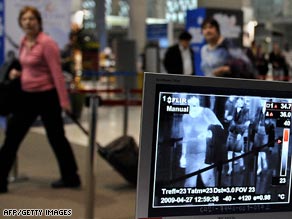 (CNN) -- The number of suspected and confirmed
swine flu
cases continue to rise around worldwide.
By early Wednesday, the swine flu outbreak in Mexico was suspected in 159 deaths and more than 2,500 illnesses, the country's health minister said.
So far, the World Health Organization says at least 112 cases have been confirmed worldwide including 64 in the United States; 26 in Mexico (including seven deaths); six in Canada; three in New Zealand; two each in Spain, the United Kingdom and Israel.
Read more